As the hot summer months approach, it is important to be aware of hot weather safety while staying active outdoors. Listed below are some precautions you should take before exercising outdoors this summer.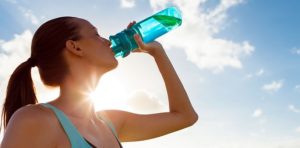 Stay Hydrated – The increased summer temperatures will lead to increased fluid loss through sweating. It is important to drink water throughout the day and increase fluid intake when exercising to replenish the body's supply.
Dress Appropriately – Wear light-weight, light colored clothing to reflect heat and aide in the evaporation of sweat. Avoid dark-colored clothing that absorbs light and heat.
Take Your Time – Initially, decrease the intensity of your workout to avoid overexertion. As your body adjusts to the heat with more frequent workouts, gradually increase the length and intensity of your exercise routine.
 Watch the Temperature and Time of Day – Exercise in the morning or evening, when the temperature is cooler. If there is a heat advisory or the temperature feels too hot to exercise comfortably, consider taking your workout routine indoors.
Know Your Medical History – Certain medical conditions or medications may place you at an increased risk for an adverse event when too much stress is placed on the body. Consult with your health care providers to ensure that you are performing the appropriate types of exercises under the right conditions.
Listen to Your Body – If any of the following symptoms occur while out in the heat, it is important to seek immediate medical attention: confusion, irritability, dizziness, headache, nausea, vomiting, visual impairment, headaches, or muscle cramping.