If you suffer from heel pain, it may be caused by a condition called plantar fasciitis. The plantar fascia is a thick band of tissue that runs along the sole of the foot from your heel to your toes. Repeated stress to the foot can cause inflammation to that band and cause sharp pain in your heel. This pain may feel worse first thing in the morning or when you are on your feet for long periods of time.
One part of treatment for plantar fasciitis includes stretching the tissue and muscles in the foot and calf to decrease tension around the heel. When performing these stretches, try to hold them for 30 seconds each, repeat 3 times, and perform them 2-3 times a day.
Seated Stretch- while sitting with your foot crossed over your other leg, pull your foot and toes back towards you.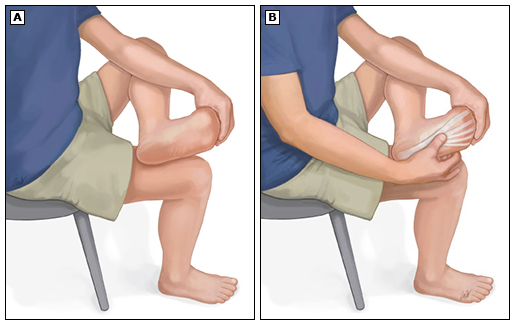 Runner's Stretch- while standing in front of a wall, place the foot that hurts back behind you and push your heel towards the ground.
Stair Stretch- while standing on the edge of a step, drop your heels down until a stretch is felt in the calves.
If you would like to learn more about how to get rid of your heel pain, contact Harbor Physical Therapy