"I just want to say that the physical therapy that I received in this facility was great. Dr. Amanda was kind, courteous, and she was patient. She was very understanding about my problem and she provided me with great information and exercises that helped with my back pain. I would definitely recommend her to anyone that I know that is in need of therapy. I am definitely going to come back to Dr. Macht if I have any back problems again and to just say hi and follow up with her to let her know how I'm keeping up with my progress. Thank you so much Dr. Amanda and staff."
~Veronica H.
"This is a great facility–very professional. I received excellent care & advice. I highly recommend this facility–Amanda was extremely professional & helpful–thanks so much for everything!"
~ Dawn D.
"Results were better than I ever expected. I am still doing my exercises daily and feeling wonderful. Im' sure I would have been on pain medication if I had not come to your group and now I am absolutely pain free (after my morning exercises, that is). Thank you all!"
~ Suzanne E.
"I thought the professionalism and the courtesy of the secretary and the physical therapist were outstanding"
~Spencer C.
"I came to Harbor Physical Therapy after breaking my leg while snowboarding in Colorado. I had a left tibial plateau fracture. I wanted to let you know that I ran the Baltimore Marathon last Saturday and I had NO PAIN in my knee! Thank you for all your help in my healing process. I'm glad I got to meet all of you".
~ Curt F.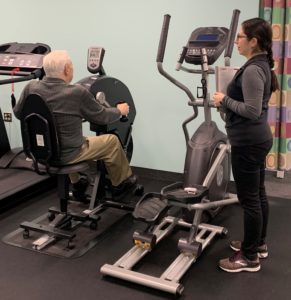 "I enjoyed every visit, I am 100% better now!."
~ Anonymous
"This was the best experience, you all made my situation so much better and were understandable in a very comfortable environment. Keep up the good work."
~ Anonymous
"I'm highly satisfied and happy with my treatment. Thank you for all your hard work. I really liked my therapist, she was more of a friend than a doctor to me. She really understood my problem and worked with me. I feel really happy going out from here with absolutely no pain. Thanks again."
~ Anonymous
"My visits are always friendly and professional. I would recommend this office to others."
~ Katina W.
"First visit was above expectations so happy I chose Harbor Physical Therapy. It's been a week and already feeling great! The staff and doctor are extremely friendly and tuned in to the reason of your visit. A++ service/treatment."
~ Demetrios K.
"Once you let someone know what area is giving you trouble, it is great that someone can tell you the name of the area and what to do to help you feel better. There is no guessing. I like it here a lot."
~ Donna J.
"Awesome service! Best therapy in town! The staff are amazing. Keep up the good work!."
~ Dennis C.
"This was the best therapy and best service. Some of the things I have learned will last me a lifetime. What a perfect and wonderful experience."
~ Terry K.
"I just wanted to say that everyone at Harbor Physical Therapy were great very professional and knowledgeable. I thought I was going to be down for awhile but the exercises that Chloe had me do really helped me get better and stronger. I never dreamed it would only take a few weeks for me to get better but my lower back feels so much better. I would recommend them to anyone who needs physical therapy."
~ Kevin E.