The Harbor Physical Therapy wellness services offered include Physical Therapy LED Personal Training,@HOME Personalized Exercise Program, Running Assessments, Therapeutic Massage, and Yoga.
Please read below for more information on these services and should you have any questions, email info@machtmedicalgroup.com. To schedule your wellness appointment, call us at (443) 524-0442.
**Please note, wellness services are not covered through health insurance. Wellness service fees are due before services are rendered.**
Physical Therapy LED Personal Training
We offer personal training services to previous patients of Harbor Physical Therapy and people in the community. The benefit of receiving personal training at Harbor Physical Therapy is personal training is led by licensed physical therapists. The benefit of physical therapists leading personal training is the therapists are trained to design and safely implement a workout to meet your fitness goals taking into account your past medical history. This is beneficial for an individual who is reluctant to begin exercising on their own because of a previous injury and or someone that needs guidance on how to achieve their fitness goals.
45-Minute Personal Training  (including a warm-up and cool down)
One session- $60
5 Sessions- $290
10 Sessions (+1 free)- $600
15 Sessions (+2 free)- $900
@HOME Personalized Exercise Program
In addition to personal training services on location at Harbor Physical Therapy, we offer a personalized home exercise program created by our licensed physical therapists based on your exercise goals. This program can be created by either speaking to our physical therapists on the phone, through email, or in-person. Once the therapist learns your specific fitness goals and past medical history, an exercise program will be created. The program will include pictures with descriptions of all the exercises. The program will be emailed or mailed to you and the physical therapists will educate you on proper form and progression of the exercises.
Initial Home Exercise Program- $50
Follow-up Home Exercise Program- $30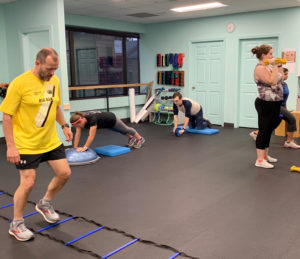 RUNNING ASSESSMENT
A Running Assessment is for any novice or expert runner that continues to have difficulty meeting their running goals due to injury or a runner that wants to prevent the likelihood of future injury.
A licensed physical therapist will assess your running gait on a treadmill. The physical therapist is looking for any upper body and or lower body deviations that can be caused by muscle weakness, decreased joint motion, lack of flexibility, and or lack of stability. The running is videoed so the runner can observe their specific deviations. From there, the physical therapist will further assess the area of deviation and prescribe specific tailored exercises to correct it.
Running Assessment pricing:
Initial Running Assessment- $130
Follow-up Running Assessment- $100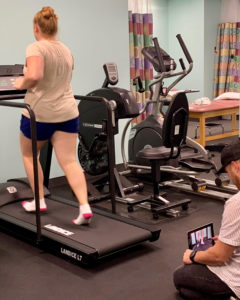 THERAPEUTIC MASSAGE
Our licensed physical therapists provide therapeutic massage to a specific area of the body that continues to have pain and or muscle tightness. This is beneficial to previous patients of Harbor Physical Therapy that need further attention to a specific area after being discharged from physical therapy. This is also a wonderful service for anyone in the community that has a specific body area that needs manual therapy.
Please refer below for duration of therapeutic massage options and fees:
15 minute massage (only for one area of the body)- $35
30 minute massage (up to two areas of the body)- $60
**Please note, a massage session includes a heat or cold treatment at the discretion of the treating physical therapist.**
MAT YOGA
Take a break from your day at work or home, de-stress, revive and refresh feeling calm and balanced. Yoga helps to improve your flexibility, balance and muscle endurance. Gain a deeper understanding of how to move with greater ease. At Harbor Physical Therapy, we keep our yoga class size small so you receive individual instructor attention to achieve your fitness goals. All levels encouraged and welcome.
Yoga Schedule:
Due to COVID-19, Yoga classes are unavailable at this time.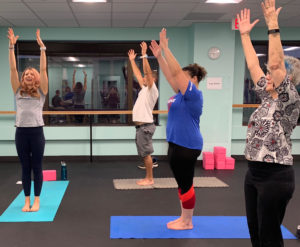 Chair Yoga
Chair yoga is a gentle form of yoga practiced in a chair or standing using a chair for support. Chair yoga is ideal for someone interested in yoga but has difficulty getting onto a floor mat. If you have any pain or injuries, the instructor will modify movement for each individual participant to make exercise attainable and comfortable. All levels are encouraged and welcomed.
Chair Yoga Schedule:
Due to COVID-19, Yoga classes are unavailable at this time.